Are you ready to intentionally create a new level of your life?
The powerful creative flow is always running through our being. Creating in our life requires a clear channel. The Universe is ready to give you all you want, but when it doesn't show up fully, it is a sure sign we are blocking this beautiful grace.
When you awaken to your soul, you are also awakening to the darkness, or debris, that has been tethering you down.
Your body wants to release these patterns that are locked in to your physical, mental, and emotional being.  Our patterns are old, and we are either living in fear or love. Identifying our fears helps us shine the light on what is standing in our way to creating fully in our life.
Over these 6 weeks you will be clearing the debris through from your trail that is preventing you from living a life of your heart's desires.
Committing to this practice for 40 days will help you create beautiful, radical change by adding up subtle shifts every day. Shifting your perception will transform your life in awe-inspiring ways you may never have thought possible.
Each week has a different focus that will help you achieve miraculous results in every area of your life.
Choose Your Payment Plan
You can choose between the full payment plan, a 2 pay plan or a 3 pay plan. Just scroll to the bottom of the page for the details.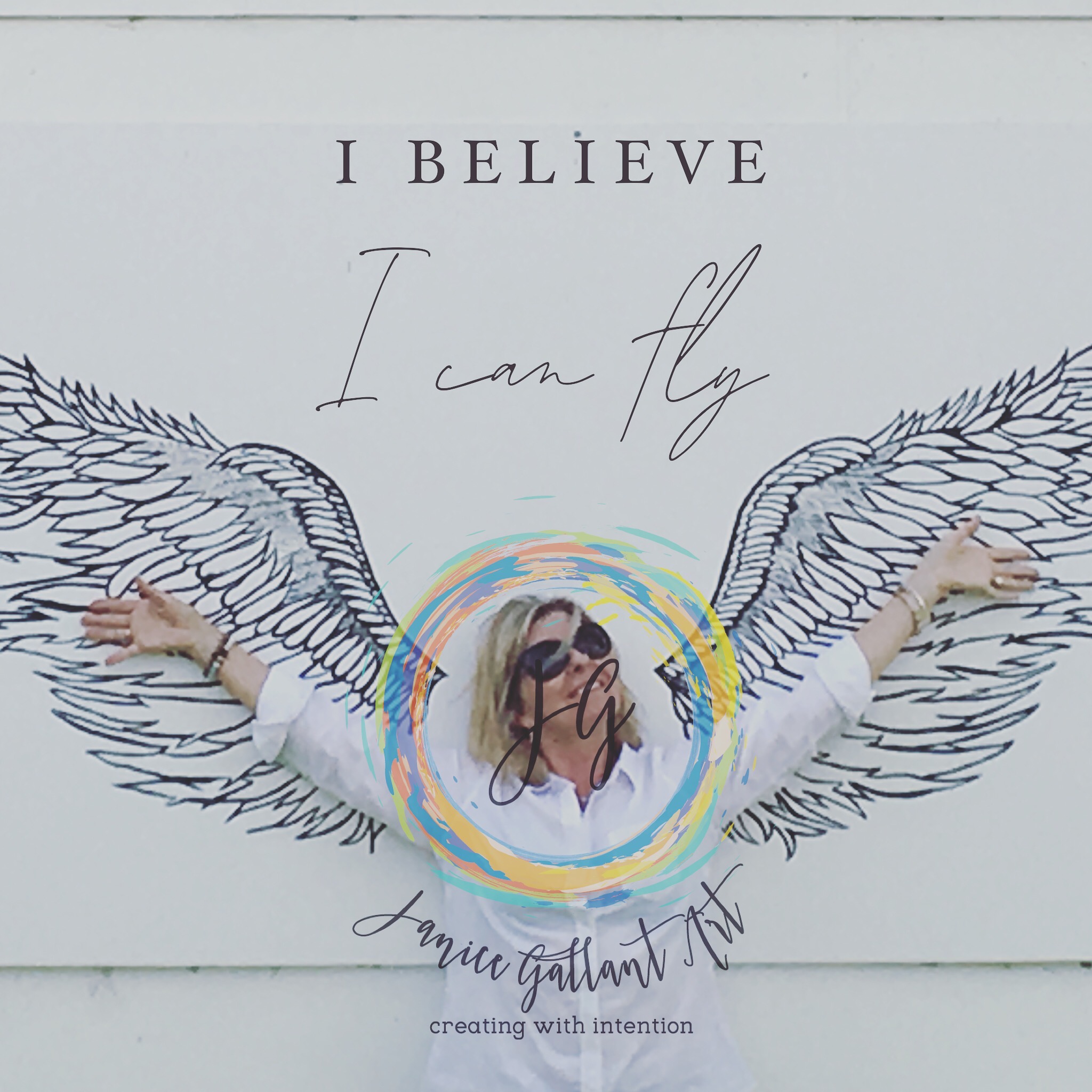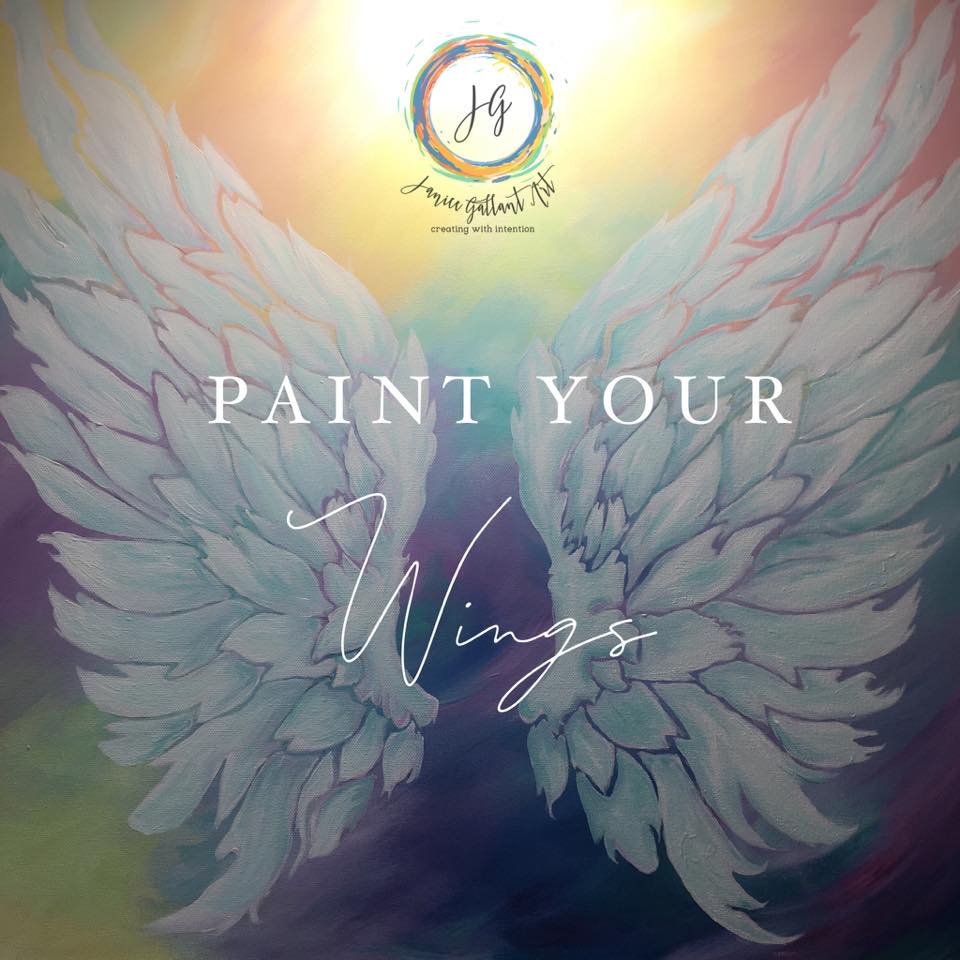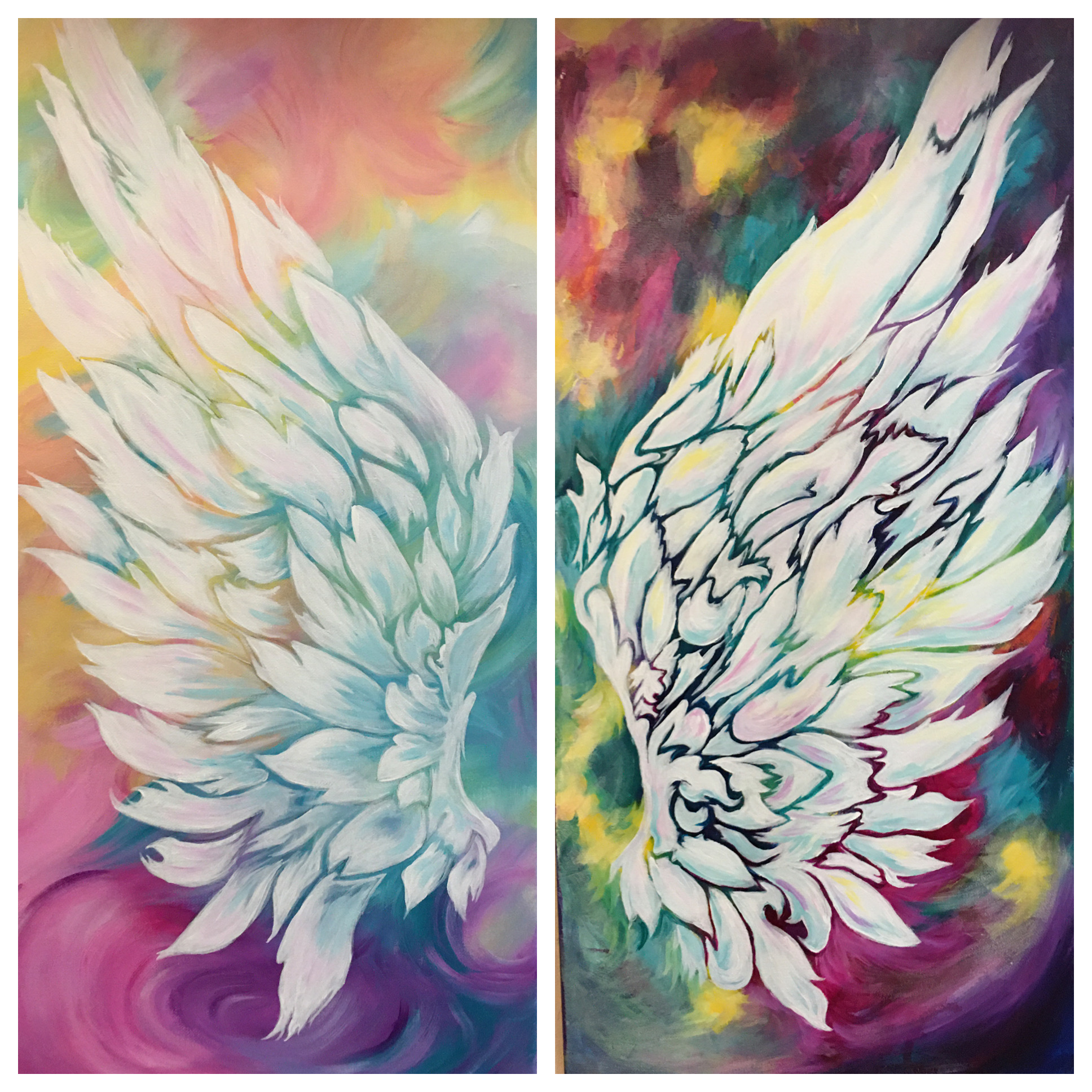 Your Sacred Painting Will Emerge Week by Week
Each week we will be infusing our intentions and shifts of perception into our canvas.
And by the end of the six weeks you will have a beautiful painting of your own wings!
Your sacred painting will exude this new energy of miracles, shifts of perception, forgiveness and healing out into your space for you to remember throughout the year.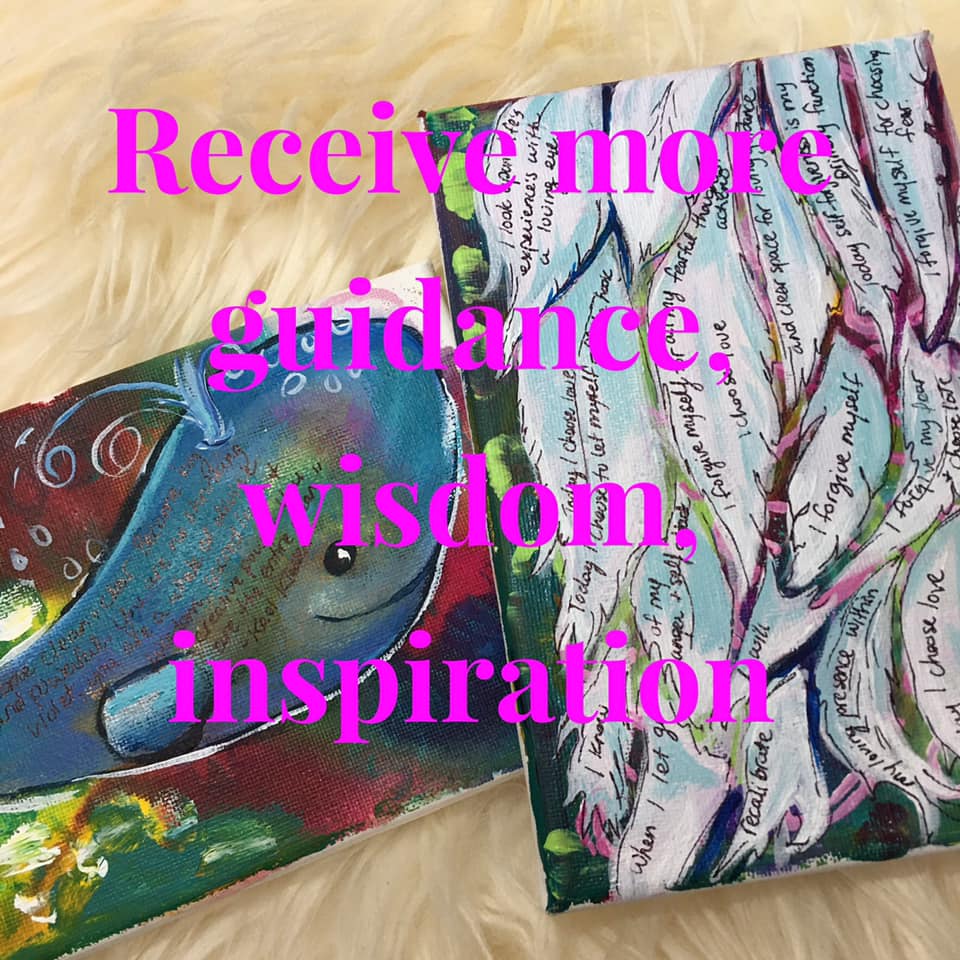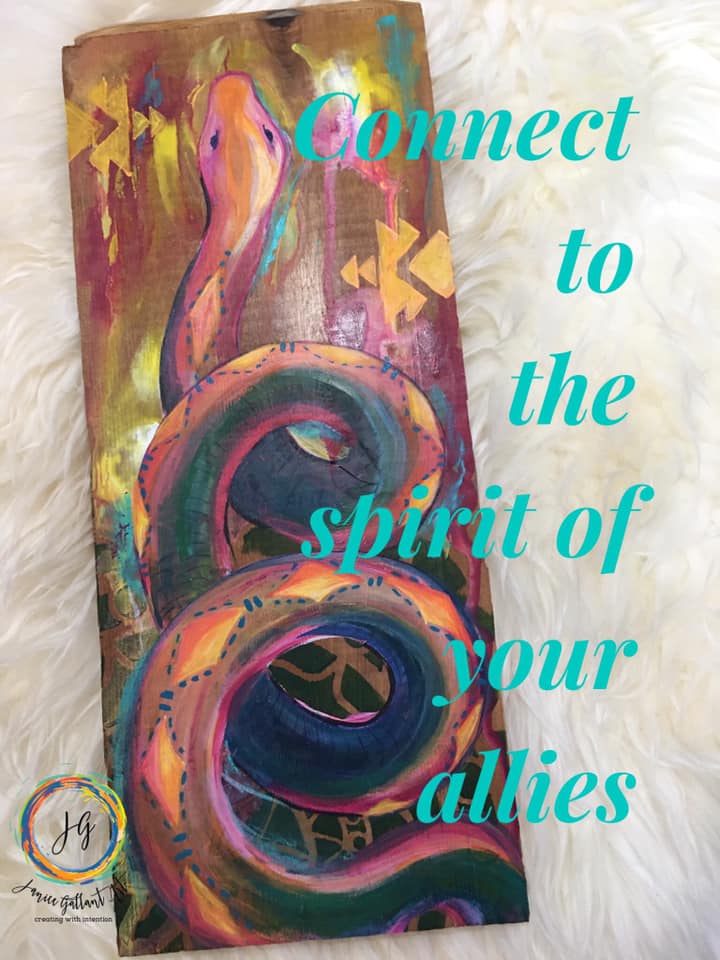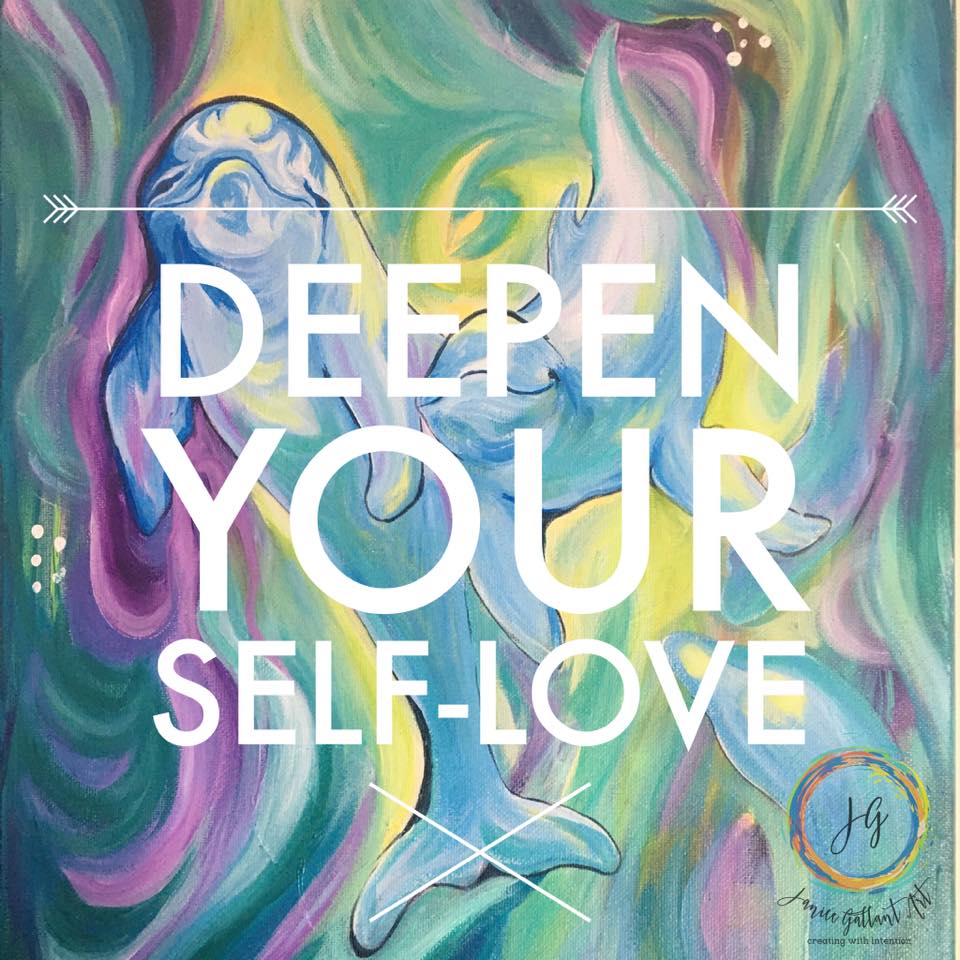 You are getting so much more than a painting!
 Weekly group vibe sessions with Janice
Guided meditations and group channelings
Painting tutorials, tips and techniques each week
Creative activities that go with each day's focus
Video prompts for each day to help you stay on track.
Meditations to use through the weeks
Journal prompts / Creative prompts
Affirmations and reminders through each week
A toolbox full of strategies to use to bring you back to your heart centered living after our 6 weeks together
Special opportunity for one on one coaching sessions to carry you through even longer!
What you need:
Painting supplies – a video outlining some basic supplies is given to you to help you get ready.
May Cause Miracles book by Gabby Bernstein
Your commitment to rise up to your highest spiritual potential and to bring more miracles into your life.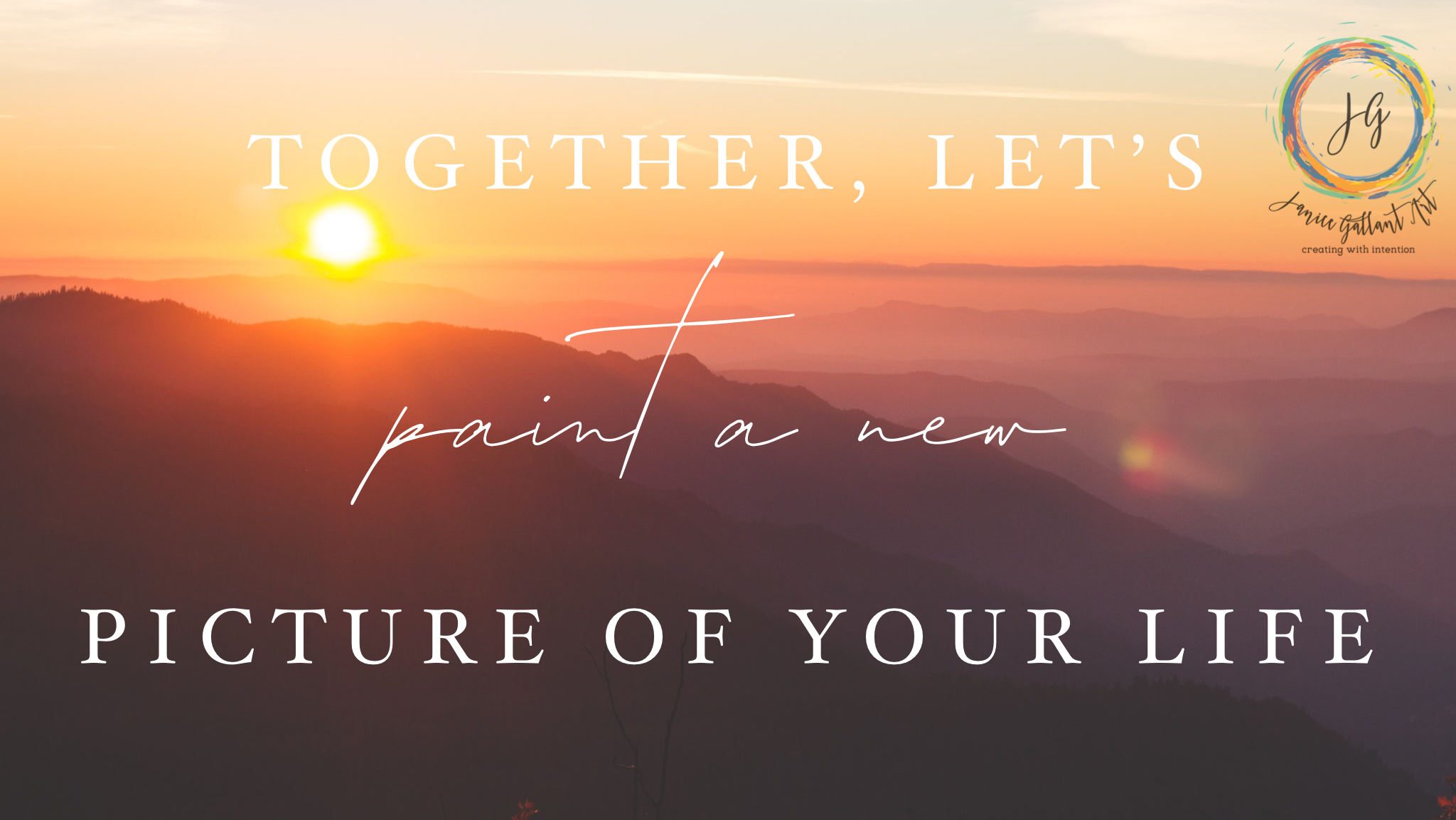 Here is how it breaks down
Week 1 – Becoming Miracle Minded
We will begin this week with a live video call together, a guided meditation and chat that will set you up for the 6 weeks, as well as this week's focus. This first week will be about identifying the fears that are blocking your creative flow in our life. You will work through Gabby's key principles of witnessing your fears, being willing to change, how to shift your perception, opening up to gratitude, forgiveness and miracles.
Painting Tutorial 
And you will begin your painting! I will guide you through a video tutorial to begin infusing your new intentions into your canvas.
Week 2 – A New Self-Perception
Our live video call will begin with a guided meditation and talking about what came up for you over the last week, then will move into setting you up for week 2. Through stories, examples and testimonials you will open to receive the shifts available for you through this new week. This week is about self-love. You will be guided to strengthen your relationship with yourself, and you will become willing to release old patterns of self-attack. 
Painting Tutorial
Through another video tutorial we will begin adding a new layer of intentions onto our canvas. Each week I will share painting techniques with you.
Week 3 – Body Image
 Each week through our live video call we will begin with a guided meditation and sharing from the last week, as well as setting you up for the new focus for this week. In week 3 you will load up on practical exercises that shift your patterns of self-sabotage when it comes to food and your body. You will be guided to identify the root cause of any food and body issues you may have and you'll see how ingesting loving thoughts greatly enhances how you ingest your food and perceive your body. 
Painting Tutorial
Another painting tutorial will guide you through your painting for this week.
Week 4 – Relationships
Beginning with our guided meditation again this week we prepare for your focus on the relationships around you. You will practice getting honest about how fear has created blocks in your relationships, whether it is blocking romantic bliss or interfering with other relationships in your life. You will gain powerful tools from A Course in Miracles that will lead you to experience immediate internal shifts around romance, whether you are single or attached. 
Painting Tutorial
And we will add beautiful new energy intentions to our painting by creating the form of our wings. We are now shifting to higher perspectives and our wings are emerging!
Week 5 – Raise Your Self-Worth, Raise Your Net-Worth 
In our live video call together we will begin with a guided meditation, then review last week and move into bringing more abundance into your life. You have worked hard over the last 4 weeks, clearing debris from your life and making space to receive more from the Universe. This is the week you will realize how fear has blocked your financial abundance. The exercises this week will activate gratitude for your workplace, help you face your financial fears, and guide you to shift your limiting beliefs around money and work. This week is applicable to any type of work. 
Painting Tutorial
In our painting we will begin to bring our wings from shadowy images to clear form. This is when we begin to pull the earth energy up to stand strongly in our higher power and receive support from our beautiful team of guides and angels.
Week 6 –  Working Miracles
Of course, we begin our week with connection and community, a guided meditation, then sharing and answering any questions that you may have from the last big week of shifting to receive all the abundance you deserve. In this final week you will embrace the practice of being a miracle worker in the world! This week helps you shift your focus onto your power to create energetic change in the world. Service is a key principle in A Course in Miracles – when you focus your thoughts and energy lovingly onto others, your heart opens and your true purpose shines bright. 
Painting Tutorial
The final painting tutorial will help you put the finishing touches on your wings, and create a vibration of miracles in your painting!
 BONUS Week 7 – Conclusion
This final week we will come together in our community, enjoy a final guided meditation and then reflect on all our strategies and tools that we can take with us, and close our energy as a group. You have learned to live a miraculous life now and your journey continues on a much higher level. We will share the beauty of our paintings on our group page or in our live video call. Our Facebook group will remain open for all of you to continue to share and support each other in the coming weeks.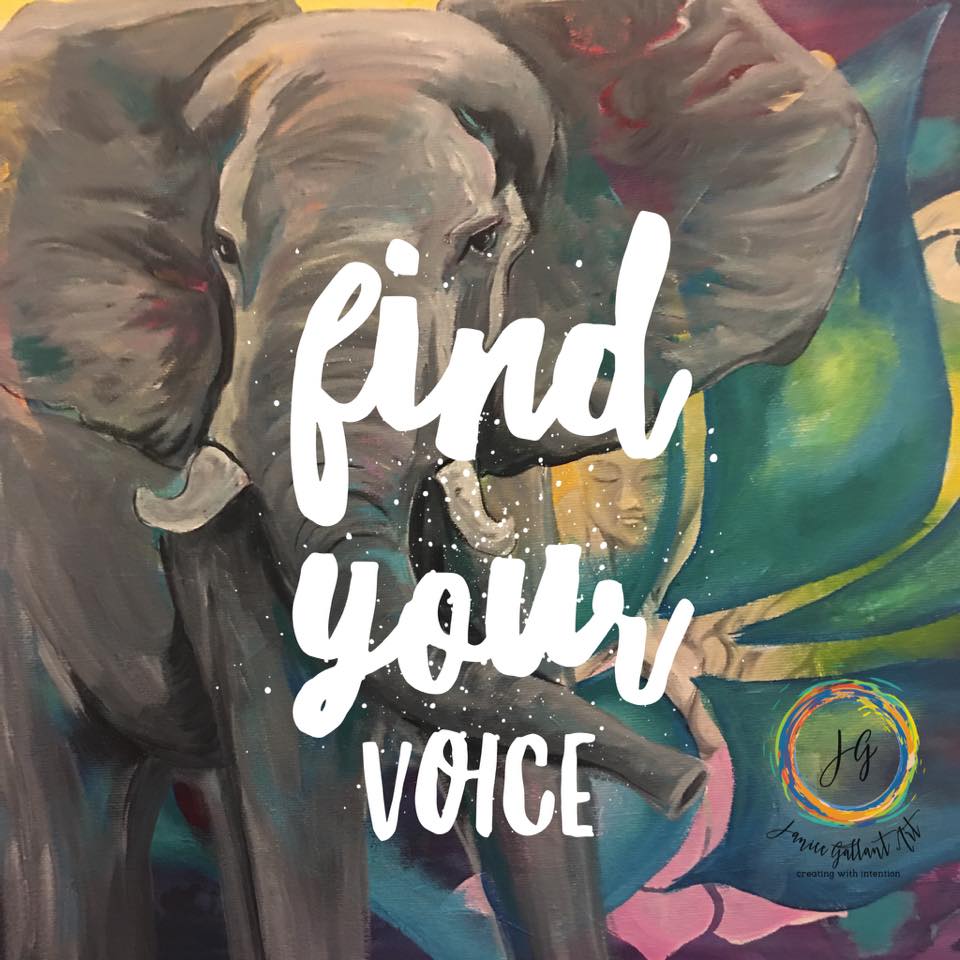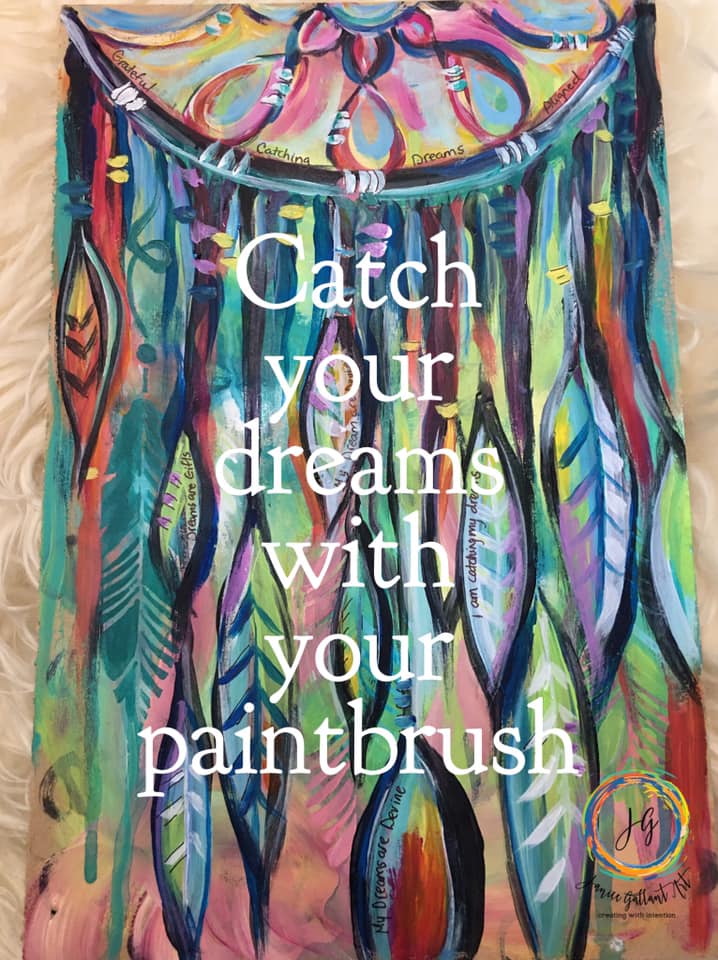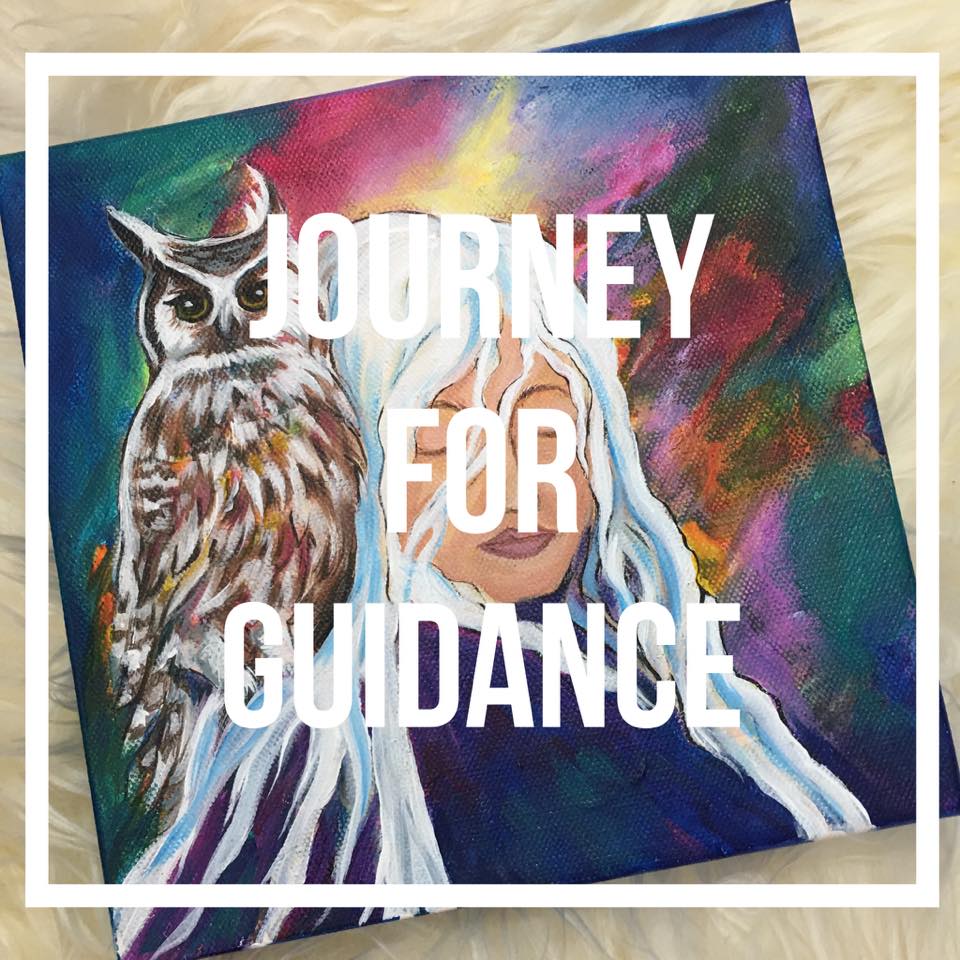 Testimonials
"Clearing Debris Through Forgiveness, and Janice gave me the tools to pick myself up and strip back my ego, my limiting beliefs, my story I have wrapped around myself like a security blanket. I can now stand in my heart center and choose a different path. Janice has taught me that I had wings all along but couldn't see them. As they came to life on my canvas my eyes were opened, I remembered them from dreams. When I took the heavy blanket of my stories off my shoulders they were free to open. As the blanket of my ego tried to knit itself back together I have learned to recognize the signs. I can now shake it off and my soul can fly higher. Again and again I can choose the higher path. It is becoming a habit. And the more I use my wings the stronger they become. I am like a bird that doesn't put its faith on the branch, but on my ability to use my wings and fly."
Larissa Manser, Alberta, Canada
"This course has changed me. In a real and profound way – my very core and the essence of WHO I am is no longer the same. I. Am. Better. I feel like I am embracing who I am and was always meant to be. I know in my heart of hearts that my purpose in this lifetime is to live a life where I genuinely commit to making this world a better place…where my actions and intentions ring light to this world and miracles to those who live here. Janice supported me in ways that I needed the most. She was always available, not just during the weekly calls, but when I faced difficulties with different lessons during the 42 days. She is a talented and gifted lightworker."
Lori Lyn, Alberta, Canada
I took this wonderful course last year and my creative healing flow snowballed. I went from painting to drawing and now I'm writing poetry. I'm going to start playing with the piano soon. Thank you Janice! Forever grateful 
 love you
Karla S. Montero, California, U.S.
Clearing Debris Through Forgiveness has guided me to be more gentle on myself. It lead me to forgive myself and others – making room and cultivating more love and compassion for myself and others. Through Janice and her workshop, I've had 'aha' moments that shifted my perspectives and that has led me to become more honest and truthful to myself. Thank you Janice! Much love.
Nereyda Ramirez, California, U.S.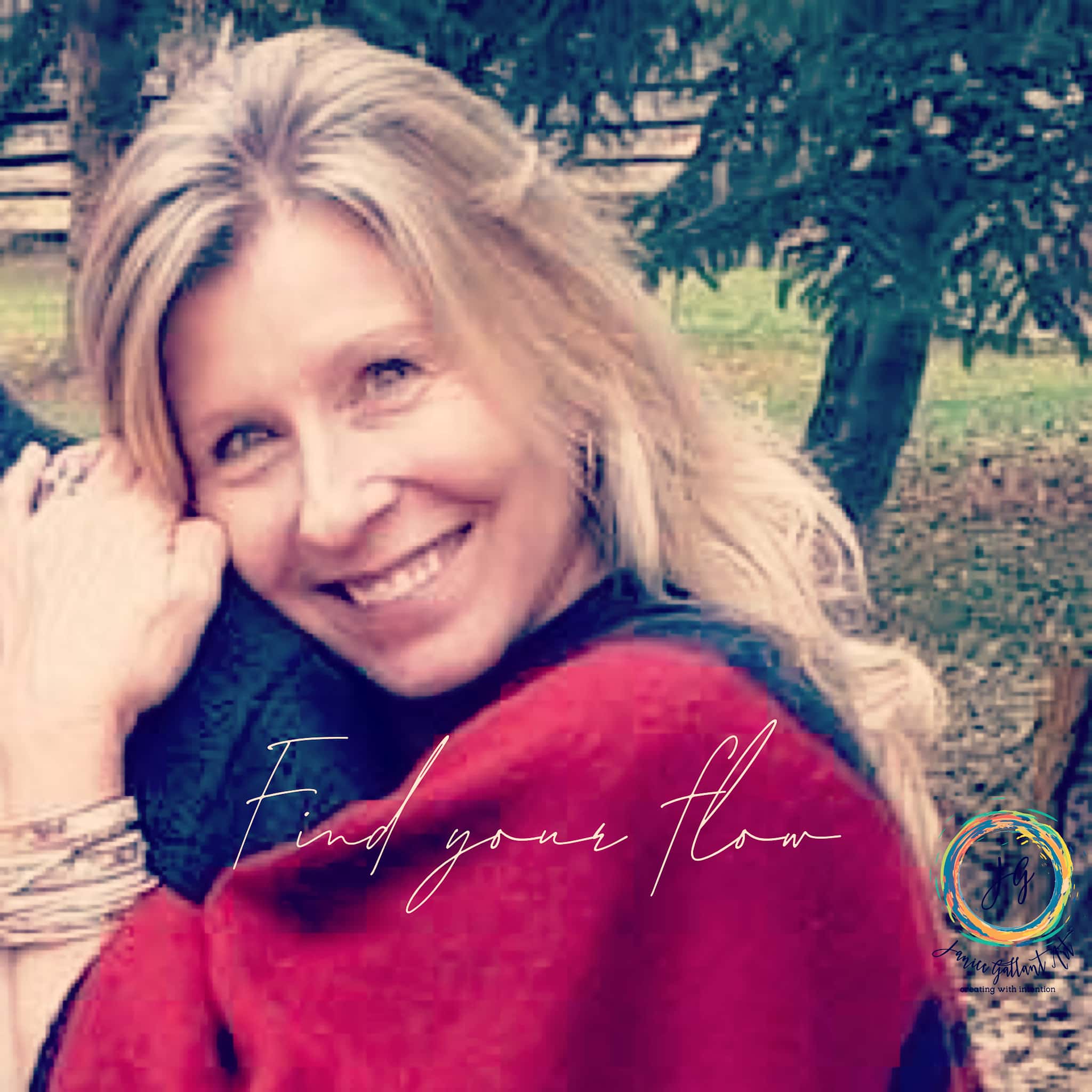 Who Am I?
I have been an artist, spiritual mindset coach, and teacher for over 25 years and am also the author of the book, The Creation Guild.  My vision is to help you find the freedom to step into your greatness and intentionally design your life in your highest creative flow.
Through many years as an international artist and author, I have learned that your creative flow is your place of power for creating in your life. Learning many deeper levels of connection through the years has been my passion, and training with my friend and mentor Gabby Bernstein has been an amazing honour. Having direct training from Gabby on her May Cause Miracles course and book, has certified me to teach her course.  Join me as we take Gabby's teachings to a new level with painting our intentions and growth into our new wings!