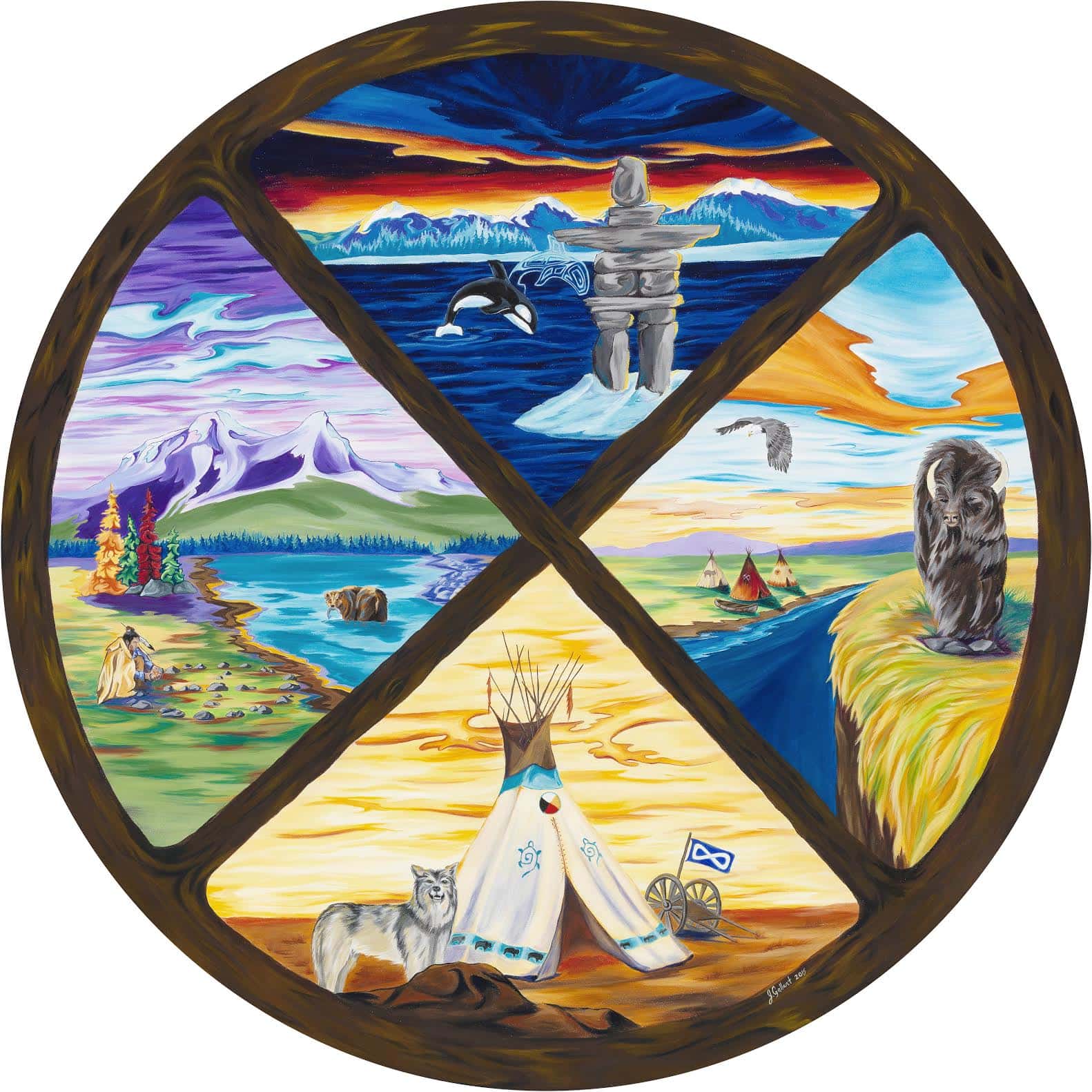 The Story Behind the Painting
In 2014 the FNMI students of École Deer Meadow School in Olds were asked what they thought should appear on a painting that represented their culture. They listed the buffalo, eagle, teepee, Métis symbol and cart, wolf, inuksuk, whale and bear. They also thought that it should be in the shape of the medicine wheel. Then I was asked to create this in a painting.
This shape created a bit of a challenge, as it is not possible to find a circle canvas. However, nothing is impossible and my husband created a circle frame and stretched the canvas over it for me to begin the painting. I then began the design in the form of the medicine wheel. I divided it into the four directions; north, east, south and west. Each direction represents the stages of life, seasons, and cycles of the day.
East: new beginnings, birth, spring and the beginning of the day
South: mid life, summer and mid day
West: older years of life, season of autumn and evening
North: our end of life years, winter and the night
In considering the student's requested images, I placed them within their natural environment along with care and thought of the spirit each animal represents, and it all fit perfectly into our four directions.
I have found it so interesting how this came full circle in my life, just like the teachings of the medicine wheel. Many years ago, about 24 years ago, when I lived back in Ontario, I was invited to join in a circle of learning from an elder in the Mideiwin society. I was able to participate as a Moon Star Lodge member and I learned a great deal about the First Nations & Metis spiritual practices from the shamanic perspective. I have much gratitude to my teacher of those years, Kathryn Gorman-Lovelady, a Metis elder and Shaman from the Anishnabe origin. I experienced beautiful growth and learning during those sacred circle moments. So when I speak about this painting, it is close to my heart and I have also pulled from my knowledge of what I learned during those years.
The original 48" circle acrylic painting hangs in the entrance of École Deer Meadow School welcoming all our FNMI students. I am happy to share these canvas prints with all schools and public buildings showing our respect and appreciation for the Indigenous Peoples of Canada, and their contribution to our country.
Each print is hand signed by me, the artist, and is numbered as one of a limited edition of 175 prints.
It has truly been an honor to be part of this process from the very beginning and I am blessed to be watching this artwork grow and expand into many areas, observing the wonderful awareness and conversations it is bringing forth. Many thanks to our school and all the FNMI students.
If you would like to purchase one of these canvas prints they are available in two sizes: 24" for $295 and 36" for $440.
Contact me at [email protected]
Many Blessings,
Janice