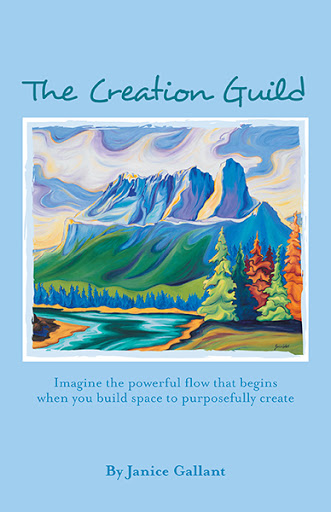 The Creation Guild
Imagine the powerful flow that begins when you build space to purposefully create.
By Janice Gallant
Intentionally create your life! This is the book you have been waiting for!
We are all creators. We are all artists creating on the canvas of life. Your creative energy is the sweet spot to manifesting a life of your desires quickly.
Creative energy is where it is at! Tapping into this flow is the secret to manifesting your desires! In The Creation Guild you will learn how to recognize what this creative energy flow feels like, and how to fine-tune yourself to align with this flow and enjoy unlimited creative power in all areas of your life.
Join me in The Creation Guild! The time has come for us to move forward and enjoy a life filled with joy and abundance in all ways and The Creation Guild is the guidebook that will help you overcome blocks in your life and reach your desires!
Where can you get it? Scroll down for online links and a list of local stores, or click the button below to purchase your copy now.